Me & Hannah have been watching Buffy everyday. It's girl bonding. And it rocks.

So I found some Buffy sites that I want to share with the world. This is my official Buffy post.

First of all,
quotes
. I've been reading Buffy quotes for about 30 minutes now and I keep laughing out loud and my husband is now wondering why he married me. These are my favorites:
Buffy: I now have my weapons categorized from A to Z, from "axe" to..."zee other axe".
Giles: I'm not supposed to have a private life?
Buffy: No. Because you're very, very old and it's gross.
Professor Maggie Walsh: So, the Slayer.
Buffy: Yeah, that's me.
Professor Maggie Walsh: We thought you were a myth.
Buffy: Well, you were myth-taken.
Buffy: [
jumps down from window
] What are you doing here?
Spike: I...
Buffy: Five words.
Spike: [
counts on his fingers
] Out... for... a... walk.
Spike: [
pause
] ... bitch!
Anya: Look, I know you find me attractive. I've seen you looking at my breasts.
Xander: Nothing personal, but when a guy does that, it just means his eyes are open.
Cordelia: So does looking at guns make you wanna have sex?
Xander: I'm 17. Looking at *linoleum* makes me wanna have sex.
Xander: That's okay. I don't wanna go. I'm just gonna go home, lie down and listen to country music. The music of pain.
Giles: Do you want me to wag my finger at you and tell you that you acted rashly? You did. A-and I can. I know that you loved him. And... he... has proven more than once that he loved you. You couldn't have known what would happen. The coming months a-are gonna, are gonna be hard... I, I suspect on all of us, but... if it's guilt you're looking for, Buffy, I'm, I'm not your man. All you will get from me is, is my support. And my respect.
Spike: You listen to me. I've been alive a bit longer than you, and dead a lot longer than that. I've seen things you couldn't imagine, and done things I'd prefer you didn't. I don't exactly have a reputation for being a thinker; I follow my blood, which does not always rush in the direction of my head. So I've made a lot of mistakes. A lot of wrong bloody calls. A hundred plus years, only one thing I've ever been sure of. You. Look at me. I'm not asking you for anything. When I tell you that I love you, it's not because I want you, or 'cause I can't have you, it has nothing to do with me. I love what you are, what you do, how you try... I've seen your strength, and your kindness, I've seen the best and the worst of you and I understand with perfect clarity exactly what you are. You are a hell of a woman. You're the one, Buffy.
Here are some links:
Chosen Two
Dusk 'Til Dawn
Fangirl
Yeah. We're Wall Flowers
Freeze Frame Network
Just a Girl
Slayer's Empire
The Sunnydale Crypt
Buffy World
And finally, some pictures:

Buffy & Angel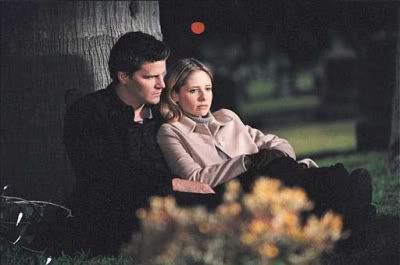 Spike & Buffy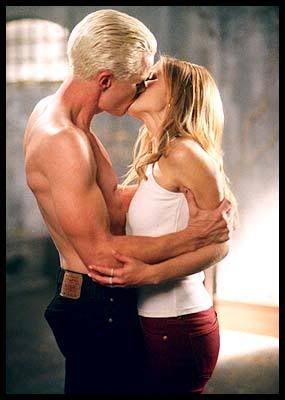 Buffy is pretty!!